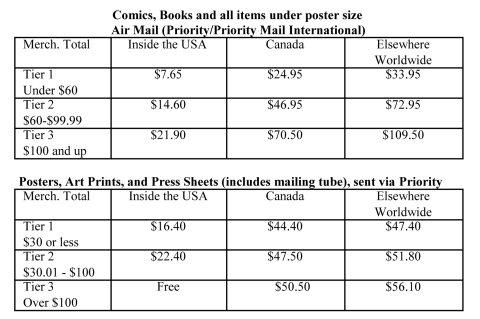 Q: How much is shipping and handling?
A: See the chart above. Since posters, art prints, and similarly shaped items are shipped in tubes, separately from books, there is a separate shipping chart for each type of merchandise – each based on the merchandise total for that type of item. You will be shown how much the charge will be for your order during the checkout procedure, and will have the option to abandon your order at that point.
Q: Are these comix all the originals?
A: The most popular underground titles went through many printings. Whenever possible, we've identified which printing this particular item is and that is included in the description. If the description includes the phrase "as new," that means this title was purchased as regular stock back before it went out of print. Some UG titles only every had one printing, and those of course ARE the originals.
Q: Do you ship to (my country)?
A: We ship worldwide, anywhere that is served by U.S. Mail and the International Postal Union
Q: How can I pay you by Paypal?
A: Since many of our items are one of a kind, we prefer to check stock before receiving Paypal payments. You can shop online, save your cart, and then notify us by email. We'll retrieve the cart, check stock, and then email you with the total to be paid. We accept Paypal payments on mail@ripoffpress.com
Q: How long will it take to get my order?
A: We now ship all orders via Priority Mail. Inside the U.S. this usually takes 1-3 days (after the date the package is shipped) depending on how far you are from Auburn, California. Overseas, it takes between one and two weeks to arrive. You will receive an email when your order is entered for shipment, with a link to the USPS.gov site so you can track your package's progress.
Q: Why is shipping so expensive?
A: Years ago, the postal service eliminated all surface shipping options for books and small parcels overseas. Inside the US, there is only a small saving shipping via Parcel Post rather than Priority - and with Priority you get fast service and free tracking. Unfortunately, the costs of this shipping keep going up every year. We charge enough to cover the costs of postage, plus a small handling fee for our labor in processing orders, picking and packing, registering the packages online, and driving them to the Post Office.
Q: Do I have to pay sales tax on my order?
A: We collect sales tax only on orders shipping within California. If you're a California retailer wanting to order for resale, contact us via email.